The U. S. and China should respect and cooperate with each other in order to create a win-win situation
——North Carolina Secretary of State, Ms. Elaine F. Marshall and Congressman, Mr. David E. Price met the representatives of Chinese visiting scholars
The North Carolina Secretary of State, Ms. Elaine F. Marshall, and Congressman, Mr. David E. Price met some Chinese scholars from the North Carolina Chinese Scholars Exchange Association (NCCSEA) on July 19 and 20, 2016 in their offices respectively. This meeting was arranged by Mr. John Wei, the chairman of the Chinese American Economic & Cultural Association (CAECA).
In the two specially arranged meetings, the two famous political elites discussed widely on the investment environment of the Research Triangle Park in North Carolina (RTP), governmental management, the Sino-US economic cooperation, and the development of enterprises on arts and culture.
North Carolina Secretary of State, Ms. Elaine F. Marshall, has twenty years' experience on state level political affairs. She cares for the overseas Chinese affairs and she is very interested in the Sino-U.S. economic and cultural exchanges. She has visited China during which she was deeply impressed by China's high-speed railways and ancient Buddhist grottoes.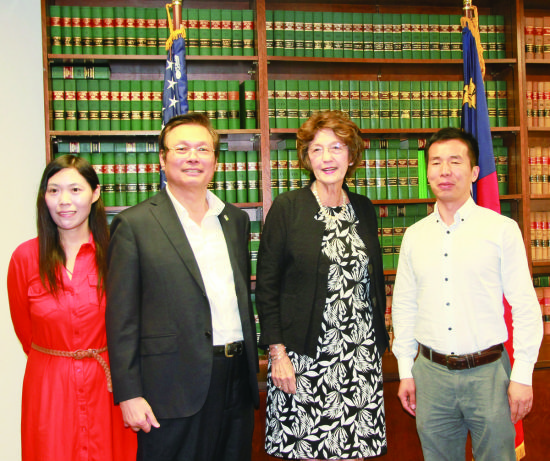 The RTP has won the reputation of "the Silicon Valley on the Eastern Coast." Famous companies, such as IBM, Lenovo, SAS, and GlaxoSmithKline, all have offices in this area. What has attracted so many well-known enterprises into this area? The Secretary of State said that the RTP has its natural advantage of talented individuals, as three prestigious universities, Duke, UNC-Chapel Hill, NCSU, and hundreds of other research institutions, are located here. The area owns over ten thousand scientists, professors, and doctors who are doing research right here. Furthermore, a considerable number of manufacturing enterprises are established to reach the goal of integration of research and production in the RTP. The state government has offered excellent services to enterprises with specialized personnel in charge of relevant activities. In addition, the RTP provides high quality and attractive living conditions, such as low cost of expenses, convenient transportation, and first-rate educational facilities.
To reply the question about the appraisal of official performance in particular the evaluation of civil servants and anti-corruption measures, the Secretary of State said the state government has adopted a rigorous evaluation system to assess all officials twice per year. The selection and appointment of officials are conducted according to strict rules so that only those outstanding and responsible U.S. citizens can get an opportunity to be selected for public services.
North Carolina is rich in cultural and artistic activities. Then, a question was raised: does the state government adopt any special and supportive policies to promote culture and arts? Secretary of State replied that North Carolina has always emphasized the importance of the development of arts and culture. North Carolina was the first state in the United States to encourage the development of symphony and other types of music. In fact, many arts events are free to the public. The state government has established a variety of art museums and organized students to perform in other states or even other countries every year. The funds for these activities mostly come from private donations. Secretary of State said that her mother was a musician and she herself also likes to play instruments. Therefore, she is very supportive to the development of arts and culture. She said the artistic and cultural education is very important for students in public schools, because they come from diverse family backgrounds.
Mr. David Price has served as a U.S. Representative working on behalf of the Fourth District of North Carolina for three decades. He is praised as "an elite statesman" under the five following presidents: Ronald Reagan, George Bush, Bill Clinton, George W. Bush, and Barack Obama. He has a deep affection for Chinese culture. Mr. Price and his wife warmly received those Chinese scholars (over ten members of the NCCSEA) in his reception room located in Chapel Hill, North Carolina. Mr. Price said that he and his wife had just returned from a visit to China. During this trip, they visited Beijing and Nanjing. They said that China has left them with a very deep impression.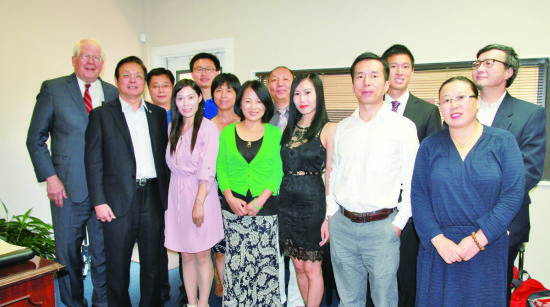 According to the recent statistics, the total Chinese investment in North Carolina since 2000 has reached $5.5 billion, ranking the third in terms of Chinese investment among all American states. By the end of 2015, Chinese enterprises in North Carolina have created 15,000 jobs, much far ahead in terms of job creation by Chinese investment in many American states. As for the economic cooperation between China and North Carolina, Mr. Price said that China and North Carolina have already established a strong economic and trade relation for a long time and China now has become one of North Carolina's most important trading partners. More and more Chinese enterprises, such as Lenovo and China National Tobacco Corporation, are coming to invest and build factories in the RTP, which create jobs, foster bilateral mutual benefits, and reach a win-win situation for both nations. Mr. Price believes that the current bilateral relationship will continue to play a more important role in promoting the future economic and trading cooperation between China and the United States.
During the meetings, the Chinese scholars and the Secretary of State and the Congressman exchanged ideas on important issues including the U.S. presidential election and the Internet intellectual property rights. The current president of the association Xuefang Xie and the next president Zhaohui Wang presented small Chinese gifts to the two political elites on behalf of those scholars. Members of the association felt that they have learned so much during their two-day's activities, because they have deepened their understanding of American politics, economy, culture, and other issues through their dialogues with the two famous public officials. This visit will have a long-term impact on their future pedagogical improvement and their scientific and research activities. Of course, this visit will have a very important role in the future Sino-U.S. economic and cultural exchanges.
Mr. John Wei, the chairman of the CAECA, has been long committed to the economic and cultural exchanges between the two countries. In fact, he has made many outstanding contributions to this bilateral tie. By the way, the two political elites who met the Chinese scholars are Mr. Wei's close friends for nearly three decades.